Portofino Black - As seen on Sofia Richie
Carte White Leather - As seen on Sofia Richie
---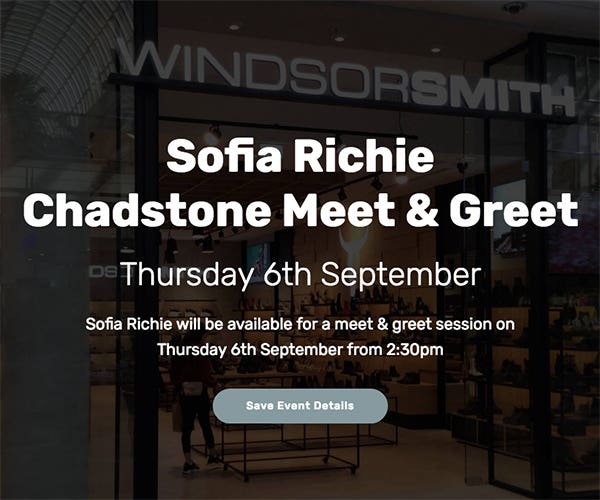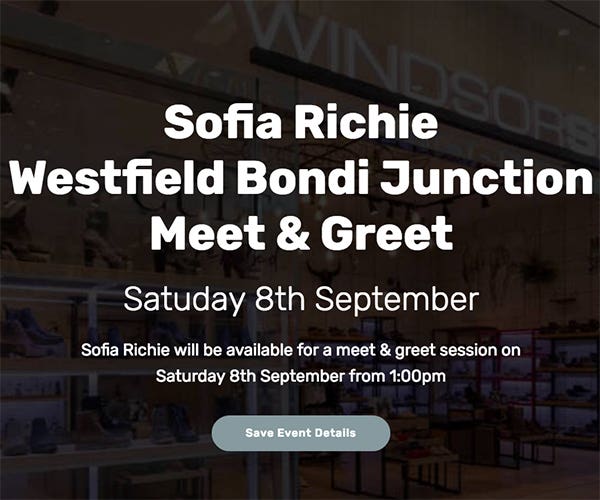 ---
Thank you for your entries. The competition has now closed.
Winners will be announced soon.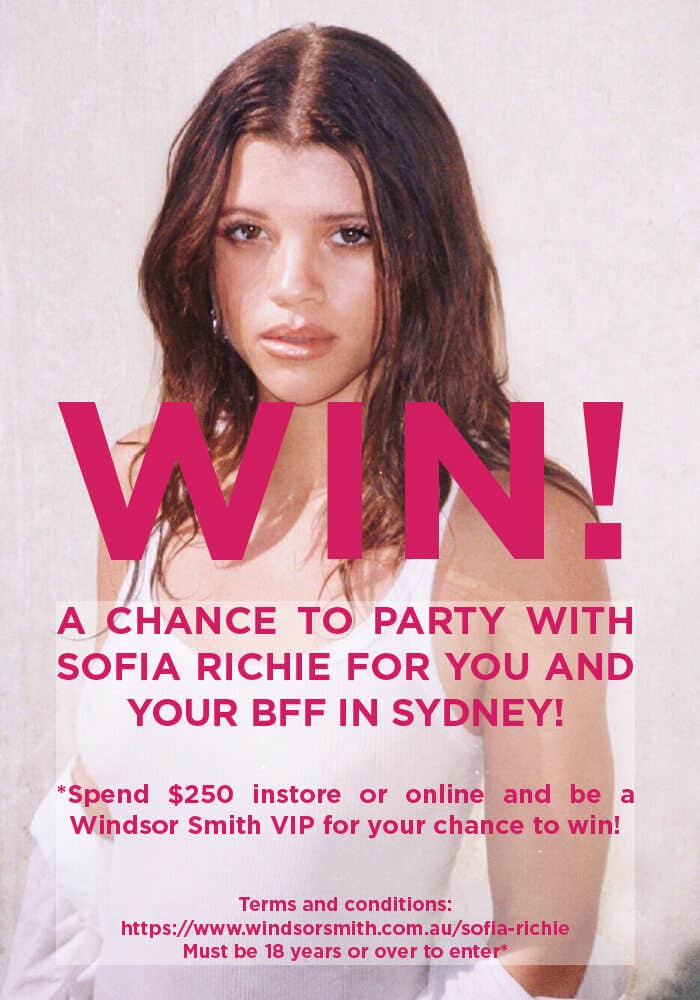 Global social media super star and international model Sofia Richie will be making her first trip to Australia next month for Windsor Smith shoes.
Born in Los Angeles, Sofia is the daughter of music legend Lionel Richie and his second wife Diane and is the younger sister of Nicole Richie.
Sofia will be attending 'Meet & Greet' sessions at Windsor Smith stores in both Melbourne and Sydney and the secret locations will be announced in coming days.
From Tuesday 21st August 2018 you will have the chance enter the draw to party with Sofia at a rooftop party in Sydney on Saturday 8th September 2018.
Simply make an instore or online purchase over the value of $250 in any participating Windsor Smith store between Tuesday 21st August and Sunday 2nd September and you and a friend could be flying to Sydney to meet the model.
A purchase is necessary. Trade permit lottery Number: LTPS/18/27244

WINDSOR SMITH PROMOTION
Terms and Conditions
1. The promoters of this promotion are Windsor Smith Pty Ltd of 78-86 Western Ave, Westmeadows VIC 3049. WINDSOR SMITH PTY. LIMITED ABN 97 004 353 977.
2. Information on how to enter and prizes forms part of the terms of entry. Entry into the competition is deemed acceptance of these terms and conditions.
3. Entry is free and open to anyone over the age of 18 years old in Australia. Employees and their immediate families and the suppliers and agencies associated with the company are ineligible to enter.
4. This competition commences on 9:00am AEDT on Tuesday the 21st of August 2018 and ends at11:59pm AEDT on Sunday the 2nd of September 2018 ("Competition Period"). Late, incomplete, incorrectly submitted, delayed, illegible, corrupted or misdirected responses will be deemed invalid.
5. To enter, participants must:
1. Win! Party with Sofia Richie for you and a friend in Sydney!
2. Make purchase of $250AUD or more at a participating Windsor Smith Australia retail store, or online with your Windsor Smith VIP account (participants must sign up if not already a VIP customer) between 21st of August 2018 to the 2nd of September 2018 to enter.
3. Full T&C's available at windsorsmith.com.au
("the Entries")
6. Multiple entries per person are accepted provided the terms of entry are met.
7. Participating store locations are:



9. There will be two (2) winners, each winner will be able to bring one (1) friend.
8. The winning entries will be picked at random from all the Entries ("the Draw") on the 3rd September 2018, 12pm, at the address of the promoter.


10. The prize winners will be contacted via the email address provided to Windsor Smith on their VIP membership, on the 3rd of September 2018.
11. There will be two (2) WINNERS in total, each will be able to bring one (1) friend. The two (2) winners will be chosen at random in accordance with all state trade lottery and gaming and lottery Acts.
12. The prize winner will receive:
Flights, one (1) night accommodation and hotel transfers for you and a friend, to party with Sofia at the Intercontinental Sydney. Flights and accommodation are excluded to those who live in metro Sydney, 120km from Sydney CBD. Party will take place on Saturday 8th September 2018, 6pm – 8pm.
Transfers to and from your local airport are not included and prize winners will need make their own way.
Prize value is approximate and will vary upon location of the winners:
Return Airfare Approximates - Based on Current Qantas flights per-person.
Perth - $1000.00
Melbourne - $530.00
Adelaide - $460.00
Brisbane - $450.00
Hobart - $400.00
Darwin - $800.00
Canberra - $675.00
Intercontinental Sydney - Overnight Accommodation - 2 X $371.00 per night Standard City View King Rooms (Inc Breakfast and Standard Internet FOC)
Return Private Transfers - $210.00 (Includes Meet and Greet Service in Terminal - Name on board etc) Business Sedan (Holden Calais or similar). Mascot to Sydney CBD Return.
The maximum total prize pool for two (2) winners is valued at AUD $5,904.00.
13. The prize winner is responsible for paying any applicable income taxes and any and all other costs and expenses not listed above. The Promoter is not liable for any other additional costs associated with winning this competition or the prizes that comprise this competition. Any prize details not specified above will be determined by the Promoter, in its sole discretion.
14. If any prize remains unclaimed after forty-eight (48) hours of the winning entry being announced, the Promoter may deem that the prize winner is ineligible to receive the prize and the winner will be redrawn.
15. In case of a redraw:
a. The redraw will happen at 12pm AEDT on the 5th of September 2018 at the address of the Promoter
b. The winner will be contacted via email by 5th of September 2018.
16. Prizes are not transferable or exchangeable and cannot be redeemed for cash. The Promoter accepts no responsibility for any variation in the value of prizes. Where a prize is unavailable for any reason, the Promoter may substitute another item of equal or lesser value for that prize, as determined by the Promoter.
17. Information regarding prizes and how to enter forms part of these terms and conditions. Entry into the competition is deemed an acknowledgement and acceptance of these terms and conditions.
18. The Promoter reserves the right, at any time, to verify the validity of entries and the identity of entrants. Proof of entry and identity will only be deemed as sufficient at the discretion of the Promoter.
19. If this competition is interfered with in any way or is not capable of being properly conducted due to any reason beyond the reasonable control of the Promoter, the Promoter reserves its rights to disqualify any entrant or to modify, suspend, terminate or cancel this competition, to the extent permitted by law.
20. The Promoter and its associated agencies and companies will not be liable for any loss (including, without limitation, indirect, special or consequential loss or loss of profits), expense, damage, personal injury or death which is suffered or sustained (whether or not arising from any person's negligence) in connection with this competition or accepting or using any prize, except for any liability which cannot be excluded by law (in which case that liability is limited to the maximum extent permitted by law).
17. All Submissions will be the property of the Promoters. The Promoters may use the name and details from the Submission for promotional, marketing and publicity purposes without compensation. By participating in this competition, each entrant assigns to the Promoter the write to send promotional communication in the form of EDM's.
18. The Promoters collects entrants' personal information in order to conduct the promotion. If the information requested is not provided, the entrant may not participate in the promotion. By entering the promotion, unless otherwise advised, allows the Promoter to use this information, in any media for the purpose for public announcements IF they are a winner, without any further reference, payment or other compensation to the entrant, including sending the entrant electronic messages. A request to access, update or correct any information should be directed to the Promoter at their address set out below. All personal information collected will be in accordance with the Windsor Smith Privacy Policy which can be found on the Windsor Smith website: http://www.windsorsmith.com.au/privacy .